South Gate Commercial Real Estate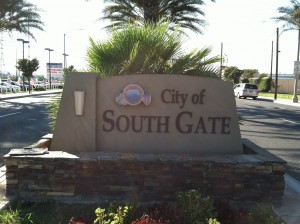 South Gate, California is a city that has a total area of 7.4 mi.² within the southeastern region of Los Angeles County. South Gate is part of the Gateway Cities that skirt the Los Angeles River to the east. South Gate was originally a Gabrielino/Tongva Indian home and migration area until the Spanish came and began developing the land. The main Spanish family that ruled the area was the Lugos. Don Lugo was known across all the Ranchos and was quoted "In his saddle, he was the court and the plains his courtroom." After the Lugos lost most of their land and wealth, the area at the south gate of the ranch became the City of South Gate. During 1910 to 1940 the majority of cattle raising area within South Gate was replaced by agricultural business. General Motors automobile manufacturing built a facility in South Gate in 1936, and the factory originally built Buick, Oldsmobile, and Pontiac vehicles. The factory was quickly converted to provide manufacturing for World War II. The same factory that produced automobiles produced aircraft engines for the B-24 Liberator, Douglas C-47 Skytrain, and the Douglas C-54 Skymaster. The factory remained open until 1982 and is now the site of South East High School as of 2005.
Commercial Property in South Gate, California is available in a concentrated area- Tweedy Mile, Firestone Blvd., El Paseo, and Hollydale all form the areas in which commercial activity takes place in South Gate. Contact the realtors at NordineCommercial.com if you are interested in purchasing or selling commercial real estate in South Gate.
Industrial Real Estate in South Gate is available, but due to recent political scandals the entire city has been operating in a deficit since 2009. Some have referred to the political styles of the city as "Third World Country Like" because of the atrocious corruption involved. Parties interested in buying or selling industrial real estate should send their inquiries to NordineCommercial.com for further information regarding the industrial property situation in South Gate.
Income Property in South Gate is becoming a reliable investment due to the greater Los Angeles County taking notice to the city's financial troubles. This has led to aid and a population resurgence within South Gate, California. If you are interested in buying or selling income properties in South Gate, contact NordineCommercial.com.
Finding a Commercial Real Estate Agent in South Gate, California is as easy as going to NordineCommercial.com. The professional Real Estate Agents at NordineCommercial.com will be able to assist you buy or sell commercial property within South Gate. Contact the realtors at NordineCommercial.com today to find out what commercial real estate options are available. We have been in business buying and selling real estate in Los Angeles for over 30 years. We have the experience and knowledge to handle your commercial real estate needs, contact us today.
Popular South Gate Commercial Real Estate Keyphrases
South Gate, CA commercial real estate for sale
South Gate, CA industrial real estate for sale
South Gate, CA mixed use real estate for sale
South Gate, CA multi-family real estate for sale
South Gate, CA apartments for sale
South Gate, CA income property for sale